The Ten Questions
By: Dr. Sam Vaknin

Buy "After the Rain - How the West Lost the East"
Click HERE!!!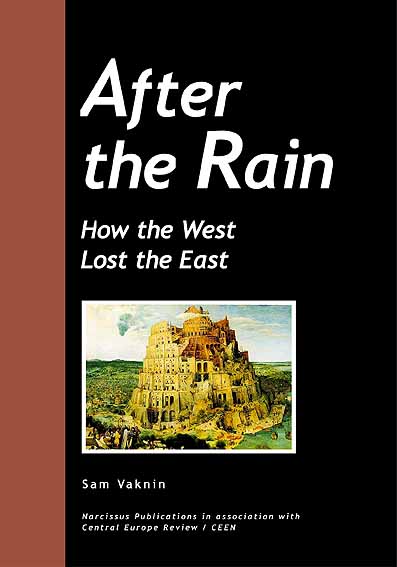 Click Here for Information about "Malignant Self Love - Narcissism Revisited" !

READ THIS: Scroll down to review a complete list of the articles - Click on the blue-coloured text!
Bookmark this Page - and SHARE IT with Others!
This material is copyrighted.
Free, unrestricted use is allowed on a non commercial basis.
The author's name and the address of this website must be incorporated in
any reproduction of the material for any use and by any means.
TO SEARCH THIS SITE, FOLLOW THESE STEPS :
1. Click here to find a specific word or subject: "Search My Site"
2. Click the blue-coloured name of an article to reach a specific article
and then use your browser button to search for a specific word



Join our mailing list!
Enter your email address below,
then click the 'Join List' button:
Powered by ListBot
Ten Questions You Wanted Answered
About Macedonia - But Never Dared to Ask

1. How Big is the Macedonian Market?
1. 2 million consumers
2. 10 million consumers
3. 20 million consumers
4. 60 million consumers
Most People answer …
2 million consumers
WRONG!!!
Through its well developed and growing system of symmetrical and asymmetrical array of free trade agreements – Macedonia gives you access to well over 60 million consumers in the region – from Turkey to Slovenia.
2. What is Macedonia's biggest Market?
1. Former republics of Yugoslavia and especially the Federal Republic of Yugoslavia
2. The European Union and especially Germany and Greece
3. Turkey and the Arab World
4. Central Europe
Most People answer …
The former republics of Yugoslavia and especially the Federal Republic of Yugoslavia.
WRONG!!!
Macedonia's biggest market by far – almost 60% of its trading volume, both exports and imports – is the European Union. Its position is comparable to the Czech Republic in that more than 75% of its international trade is conducted with either the European Union or with the USA.
3. Macedonia's GDP per capita is …
1. 700 US dollars
2. 1,100 US dollars
3. 300 DM
4. Almost 2,000 US dollars
Most people answer…
About 700 US dollars.
WRONG!!!
Macedonia's GDP per capita in 1998 was 1,865 US dollars per capita. Adjusted to purchasing power (PPP) and taking into consideration the informal sector of the economy – Macedonia's GDP per capita is probably c. 5,000 US dollars per annum.
By comparison – the Czech Republic non-PPP adjusted GDP per capita is also 5,000 US dollars.
4. Macedonia's level of corruption is …
1. Exceedingly high
2. Very high
3. Like South Europe
4. Like Africa
Most people answer …
Very high.
WRONG!!!
According to Transparency International, Macedonia's rate of corruption is MEDIUM (66th place out of 99 countries in its 1999 report), below many countries and even below some members of the European Union. It has one of the lowest rates of violent crime and property crimes in the world – though, unfortunately, property crimes and drug-related crimes are on the rise as modernization proceeds apace.
5. The level of wages in Macedonia is …
1. Very high, comparable to the European Union
2. Very low, comparable to Africa
3. Comparable to other countries in transition
4. Comparable to other developing countries
Most people answer…
Comparable to other developing countries.
WRONG!!!
Macedonia's workforce – one of the most well educated in the countries in transition – is much cheaper in RELATIVE terms than the workforce in other countries in transition. The average salary in Macedonia is comparable to most other countries in transition and is around 300 DM a month. BUT, the productivity of the Macedonian worker, as measured by GDP per worker is much higher. Macedonia produces (without the informal sector of the economy) c. 3.5 billion US dollars a year with c. 350,000 active workers. This is c. 10,000 US dollars per worker. The salary paid to a Macedonian worker constitutes, therefore, 20% of his product.
6. Macedonia is …
1. Investor friendly
2. Investor averse
3. So-so, not different to other countries in transition
4. Investor indifferent
Most people answer …
Investor averse.
WRONG!!!
Investors ignored Macedonia mainly if not only because of geopolitical external shocks. Despite this, Macedonia succeeded to attract almost 200 million US dollars in 1997-8 only. Another 200 million will probably be invested in 1999, the year of Kosovo and the refugee crisis. Macedonia is the first to have legislated a law for free economic zones and it has an impressive array of tax and investment incentives in place. By implementing a one-stop shop concept, it is doing its utmost to isolate the prospective investor from red tape and potential official corruption. It is gradually but steadily injecting added transparency into the investment and procurement processes. And it is transforming itself into a free trade hub and the axis of a regional free trade zone in conjunction with its neighbours with which it is now on historically unprecedented friendly terms.
7. Property Rights in Macedonia are …
1. Non existent
2. Poorly developed and protected
3. Like in all other countries in transition
4. Adequately developed and protected
Most people answer …
Poorly developed and protected.
RIGHT !!!
Despite the fact that Macedonia has a fine legislation infrastructure, its courts and its bureaucrats, its banking system, its collateral system and its registrars systems are all poorly developed and dysfunctional to varying degrees.
This is a top priority of the current administration. Legislation is adapted, law enforcement agents – especially judges – are educated, mortgage registration, collateral registration, company registrars – all is being revamped. The aim is to provide the investors with maximum protection of their rights and property.
We are making progress. Today the main problem is not securing property rights or due process. The main problem is the DELAY, the TIME LAG and the BACKLOG in doing so. This is an improvement over the past – but it is still a sorry state. We are aware of it and we undertake to change the situation. In the meantime, the office of every minister and every civil servant is open to investors, who are provided with unparalleled access to the highest level of government. Use it for your benefit.
Remember: Macedonia never had problems of currency convertibility, repatriation of profits or investments or default. Its debt is medium by international standards (60% of GDP, most of it long term). It has 3 months of imports in foreign currency reserves. Its debts are trading at 75% of their face value – better than most developing countries, a sign of international confidence in its obligations.
8. Macedonia's Infrastructure is …
1. Decrepit and inadequate
2. Like in other poor countries
3. Sufficient but not well maintained
4. Excellent
Most people answer …
Excellent.
Just kidding.
Actually, most people answer: like in poor countries.
WRONG!!!
Don't forget that Macedonia was a part of one of the most sophisticated markets in the world – the Former Yugoslav Federation. Its infrastructure is insufficient and often badly maintained – but not uniformly so. Some types of infrastructure are highly developed, even by European standards. For instance, there are more than 40,000 mobile phone subscribers in a workforce of less than 750,000 people. Macedonia has one of the most developed wireless paging systems in Europe – it far surpasses the paging systems of Central Europe. It is rich in electronic media. The Internet is very widespread. It has a few German-quality autobahns – connecting Macedonia to its neighbours and, in a few years, to every country in Europe, West and East.
9. Macedonia is isolated and in a war zone
No American multiple choice here.
Yes, Macedonia is situated in a turbulent area.
But it is also an area bigger and richer than Central Europe.
And Macedonia has never been involved in any war activities.
It has always been an island of stability and smooth democratic transition.
It hasn't been isolated for years now. Its good neighbour Greece is one of its greatest trading partners and investors. Its other good neighbour Bulgaria has just signed with it a series of economic collaboration agreements, including a free trade agreement.
With the advent of the reconstruction of the Balkans, Macedonia is a uniquely positioned multi-ethnic society, with Albanians and Macedonians in its government. Trusted by all its neighbours, it is bound to become a pivotal player in the stability and growth of this part of the world.
10. Macedonia's Orientation is Not Clear
It has always been the same:
Prosperity
Growth
Opportunities
Achievements
Happiness
All these come today bundled with democracy and one model or another of free market economy.
Macedonia has adopted both enthusiastically.
It is a pro-Western, pro-European country aspiring to become a member of the Euro-Atlantic structures.
Hopefully, with your help.