Invasion of the Amazons
Buy "After the Rain - How the West Lost the East"
Click HERE!!!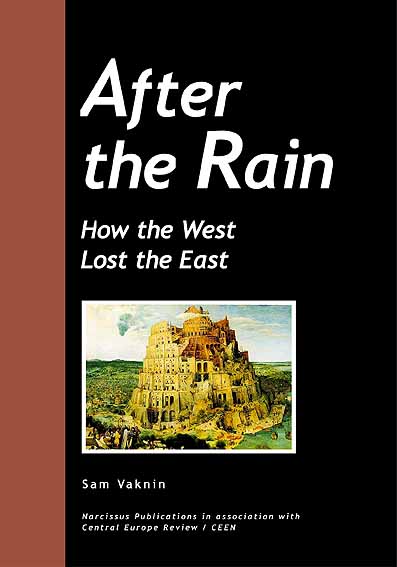 Click Here for Information about "Malignant Self Love - Narcissism Revisited"!

READ THIS: Scroll down to review a complete list of the articles - Click on the blue-coloured text!
Bookmark this Page - and SHARE IT with Others!

This material is copyrighted.
Free, unrestricted use is allowed on a non commercial basis.
The author's name and the address of this website must be incorporated in
any reproduction of the material for any use and by any means.

TO SEARCH THIS SITE, FOLLOW THESE STEPS:
1. Click here to find a specific word or subject: "Search My Site"
2. Click the blue-coloured name of an article to reach a specific article
and then use your browser button to search for a specific word


My InternetContent Author Archive
TrendSiters - Trend Setters in Web Content
Go Back to "Digital Content on the Web" Home Page!


The last few months have witnessed a bloodbath in tech stocks coupled with a frantic re-definition of the web and of every player in it (as far as content is concerned).
This effort is three pronged:
Some companies are gambling on content distribution and the possession of the attendant digital infrastructure. MightyWords, for example, stealthily transformed itself from a "free-for-all-everyone-welcome" e-publisher to a distribution channel of choice works (mainly by midlist authors). It now aims to feed its content to content-starved web sites. In the process, it shed thousands of unfortunate authors who did not meet its (never stated) sales criteria.
Others bet the farm on content creation and packaging. Bn.com invaded the digital publishing and POD (Print on Demand) businesses in a series of lightning purchases. It is now the largest e-book store by a wide margin.
But Amazon seemed to have got it right once more. The web's own virtual mall and the former darling of Wall Street has diversified into micropayments.
The Internet started as a free medium for free spirits. E-commerce was once considered a dirty word. Web surfers became used to free content. Hence the (very low) glass ceiling on the price of content made available through the web - and the need to charge customers less than 1 US dollars to a few dollars per transaction ("micro-payments"). Various service providers (such as Pay-Pal) emerged, none became sufficiently dominant and all-pervasive to constitute a standard. Web merchants' ability to accept micropayments is crucial. E-commerce (let alone m-commerce) will never take off without it.
Enter Amazon. Its "Honour System" is licensed to third party web sites (such as Bartleby.com and SatireWire). It allows people to donate money or effect micro-payments, apparently through its patented one-click system. As far as the web sites are concerned, there are two major drawbacks: all donations and payments are refundable within 30 days and Amazon charges them 15 cents per transaction plus 15(!) percent. By far the worst deal in town.
So, why the fuss?
Because of Amazon's customer list. This development emphasizes the growing realization that one's list of customers - properly data mined - is the greatest asset, greater even than original content and more important than distribution channels and digital right management or asset management applications. Merchants are willing to pay for access to this ever expanding virtual neighbourhood (even if they are not made privy to the customer information collected by Amazon).
The Honour System looks suspiciously similar to the payment system designed by Amazon for Stephen King's serialized e-novel, "The Plant". Interesting to note how the needs of authors and publishers are now in the driver's seat, helping to spur along innovations in business methods.



The Internet Cycle
The Internet - A Medium or a Message?
The Internet in Countries in Transition
The Revolt of the Poor - Intellectual Property Rights
The Demise of the Dinosaur PTTs
(Articles are added periodically)
Encyclopedia of Economics in Economies in Transition
To view the Primer -
Download a Babylon Browser HERE
Download CEE and Balkan Study Modules
Feel free to E-Mail the author at palma@unet.com.mk
or at samvak@visto.com


Visit my other sites:
Portfolio Management Theory and Technical Analysis Lecture Notes
Microeconomics and Macroeconomics Lecture Notes
Malignant Self Love - Narcissism Revisited
Poetry of Healing and Abuse: My Poems
FREE - Read New Short Fiction (Hebrew)